Today, when everything has become accessible via the internet, learning too, has joined the trend. Be it your regular academics or extracurricular activities, you can learn all of these with a few clicks.
And in the times of the Internet being the boss, feeding your curiosity has become easier than ever. So, if you are among those who have been waiting to pacify your soul with the magic of music, your good days are here.
Learning musical instruments online is made possible by different online platforms on the internet. With highly certified and trained teachers, you can learn piano basics on Wizaru from the comfort of your home.
Learn Piano Through Online Keyboard Classes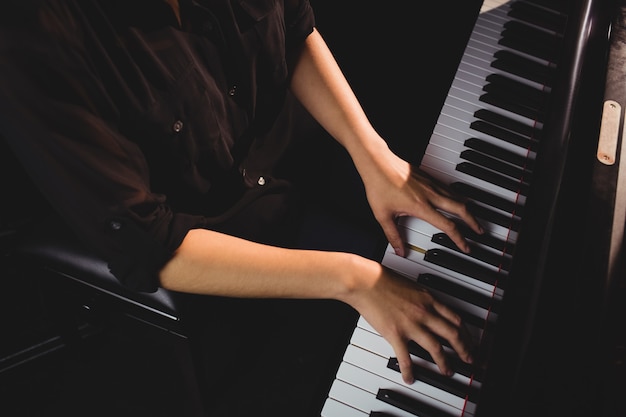 "Music gives a soul to the universe, wings to the mind, flight to the imagination, and life to everything." – Plato
The standard traditional piano comprises 88 keys with a compass of seven full octaves plus a few keys.
You might wonder how well you can learn piano through online keyboard classes. To answer your doubt, the piano can be easily learned online. Teachers can help you learn through online notes and live classes in a fun and interactive way.
Top 5 Piano Basics When You Start Learning
Learning piano can be very easy and smooth through online classes. There are various online keyboard classes to help kids learn piano basics.
Let's discuss the top 5 basics you should start learning to become a melodious piano player.
Know the Keyboard notes
Before you jump on to play your favorite tune, it's crucial to be acquainted with all the keyboard notes. At first, it might get intimidating seeing so many keys. But with time you will be able to learn about all of them.
Learn the note values
After you know the notes and become familiar with them, it's time to know about the beats and bars. You need to know when to place a note where to make music and how you like it.
Practice Bars and Tempo
Once you learn about beats, you can easily move on to explore the tempo part of playing the piano. When you learn piano basics, it is going to be one of the most fun parts.
Time for a Melody
Now that you've learned much about notes and beats, it's time to learn how to play songs. Every keystroke on a piano corresponds to a click.
Playing the piano with both your hands
You may have seen pianists usually play with both of their hands. After you pass all the previous steps with flying colors, it's time for you to put up a great show.
Looking at the notations, you can learn to play the piano with both of your hands. The notes for your left hand are shown on the lower staff, and the notes for your right hand are on the upper staff.
What's Next? Thinking of giving it a try?
Sure, why not?
Learn how to choose a Piano for beginners on wizaru. Wizaru has piano teachers who are highly qualified from top institutes. Our teachers are trained, friendly, and helpful.
Teachers at Wizaru are highly rated by the parents and the reviews are 100% authentic. They will guide your kids through their learning journey and help them achieve the best of their potential.
We have a curriculum that supports the overall development of kids through learning. We also keep a check that your kids don't compromise on their regular academics, so, we provide you with the flexibility to choose the time slot that suits your kid's routine.
We have a dedicated support team available 24×7 to assist you throughout your kid's learning journey. Start your journey with us today!